HBO Gives Hope to the Poor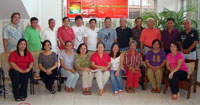 HBO Incorporators after the signing Front row, sitting left to right: Dr. Mary Joan Manejero, Gilda D. Nava, Rosalie Salcedo, Liane Dogoldogol, Cecille Demonteverde, Leila Divinagracia, Rosa Bactung, Dr. Arlene Tionko and Mila Doyo. Standing from left: Larry Hortelano, Harry Dolendo, Eulogio Demonteverde, Clemente Doyo, Ricky Duremdes, Botts Ferrer, Pablo D. Nava IV, Atty. Pablo Nava III, Jose de la Pena, Ricardo Demonteverde, Rey Dequina and Eddie Nilo Empedrado.
Core members of the civic group Hope Builders Organization (HBO) signed October 9, 2010 its Articles of Incorporation at the residence of Atty. Pablo R. Nava III in Dumangas, Iloilo.
The signing was requisite to making HBO a legal entity as a registered non-government organization primarily dedicated "to help people, especially the poor." The process also formalizes its various assistance projects in the town of Dumangas.
Among HBO's projects so far was the "Balik Eskwela Assistance" – the giving of school supplies during the last school opening season in cooperation with the JCI Ilang-Ilang Jaycees. About 200 pupils from Barangays Calao and Bolilao, and some 100 day-care center pupils from Barangays Poblacion and Tambobo benefited from the activity.
HBO also turned over a Medical Examination Table to the Botika sa Parokya Clinic recently.
The Hope Builders Organization first started as a group of 10 professionals and businessmen in Dumangas, meeting periodically since May 29, 2010. It has since expanded to accommodate additional members.
Its primary purpose is "to help people, especially the poor in Dumangas, in their pursuit of physical, moral, spiritual, intellectual, social and economic well-being, and it shall inculcate in its members the development of their acquaintance in order to foster involvement in community affairs and civic service."