A Song of Hope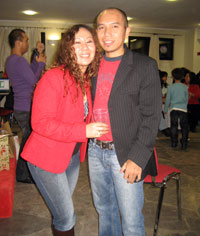 Andy and Migs.
The above song is a composition of Andy Linacero Cortez (of the Mig and Andy fame), the theme song in a locally made film entitled "Buhi." In this film about a child with cancer, Andy plays the supporting role of Nang Sima, the herbalist.
Andy was recruited by the KKK or Mga Kaibigan ng mga Kabataang May Kanser to star in this film. But, having a sister who died of breast cancer, Andy wanted to do more. "It was not easy having a cancer patient in the family. There were difficulties and pain. My sister Hope died of breast cancer last year and I promised myself do to all that I can to help people with cancer. Then, this film project came so I grabbed it," Andy said.
Andy is no stranger to stage plays. She is a member of UP Teatro Amakan and a certified OPA (Overseas Performing Artist ) who, together with her husband Mig, has traveled and performed in prestigious hotels of various countries in Asia, Middleast, Africa and Europe since 1990 and up to the present. Although a really good performer, Andy does not write songs. It was Hope who was the song writer. "But I was inspired. A day after the shoot, I felt good that I was able to contribute. Then I felt I was possessed by something that I started to write this song. As I wrote it, I looked back to my experience. The song is like a conversation with my family. The next thing I knew, we are already recording it," Andy said. She added that Mig sang the "Karabaw song" which is also included in the film.
"Buhi" is the KKK's entry to the the Quisumbing Escandor Film Festival for Health. It is the club's fund raising effort in order to support the varied children with cancer that are under its care.
The men and women as well as children who are part of the film are all volunteers who believe that children with cancer should be given a chance to live and be happy.
Paglaum
Indi kita magkasubo sang aton nadangatan
Kay kita gin tuga nga may rason sining kalibuatn
Kon ikaw ang yara sa mapait nga kahimtangan,
Kay ikaw, labi sa tanan, sang Diyos na hamut-an
Koro
Padayon, padayon ang pag hilinampang
Padayon, padayon ang pag linagsanay
Padayon, padayon ang pag kilinadlaw
Samtang may kabuhi kita, may paglaum
Kon kami ang madula sa sining kalibutan,
Indi naga kahulugan kamo amon gin bayaan
Kay kami ang mapauli sa balay nga bulawan
Kay didto ang kalipay, walay katapusn
Koro
Padayon, padayon ang pag hilinampang
Padayon, padayon ang pag linagsanay
Padayon, padayon ang pag kilinadlaw
Samtang may kabuhi kita, may Paglaum
(Suliton ang Koro)