Big at Ten: Garden of the Ascension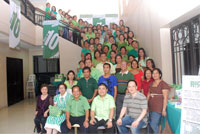 At the Grand Stairway of St. Therese Chapel.
Garden of the Ascension-Iloilo celebrated its 10th anniversary last Oct. 10, 2010 with theme: Be FIT. Be INVOLVED. Be part of the HISTORY!
One of its activities was a familiarization tour of St. Therese Chapels, thanksgiving mass, judging of the "Decorate a Green Bag" entries and recognition of TOP producers and qualifiers for the trip to Manila.
For 10 fruitful years, Garden of the Ascension-Iloilo has been working so hard to give the best service possible to their purchasers and sales associates. Through the years, they were able to establish a client-friendly environment, thus, giving clients a more personalized service that they truly deserve. They continuously innovate. In fact, they now lead in giving more privileges to their purchasers in terms of products, services and park amenities.
Garden of the Ascension is Iloilo's finest, serene memorial park. It is an integrated place of dignity and serenity. A well-secured 17-hectare complex that contains features to pay tribute to a departed loved on. It is a tranquil haven that offers a variety of choices ranging from lawn lots, memorial courts and spacious family estates.