Ballet Barbie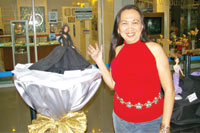 Leslie Noble, project director of Ballet Barbie.
For one week last month, Barbie dolls dressed in fabulous cocktail dresses and gowns designed by the country's top fashion designers were the must-see items at SM City Iloilo.
"Ballet Barbie" is a project of Ballet Philippines. The project started in March 2010 through an auction. "Myrna Yao of Richwell Marketing, the exclusive distributor of Barbie dolls in the Philippines, gave out 200 dolls. Then, we tapped designers to dress them for free," said Leslie Noble, project director of Ballet Barbie.
"The remaining dolls were bid at the Ballet Philippines' website. We also received many inquiries and orders," she added.
With the success of the project, the dance company offered SM to host the Ballet Barbie Tour in its selected branches nationwide. Apart from Iloilo the tour included Davao, Cebu and Bacolod.
Barbie Ballet is a fund raising project of Ballet Philippines in order to finance the education of its 80 scholars this season. "Ballet Philippines has professionalized dance in the country. We urge these dancers to take ballet as their career," Noble concluded.