Anthony Castillo's Segunda Mano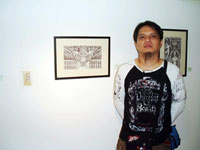 Anthony Castillo started out as an artist in 1993.
Anthony Castillo, an Ilonggo artist, held an exhibit at the Casa Real Gallery, Old Provincial Capitol Building recently. Entitled "Segunda Mano" the exhibit featured Castillo's works in ballpoint pen and ink on paper. It showed the artist's own representation of himself and his environment. These works were driven by his passion towards drawing out figures of moment in his life.
Drawing, which usually preludes a major represents the purity in its unadulterated venue wherein there is an absence of colors. Colors, sometimes act as a distraction.
The works gave the public a glimpse of battles between control and calmness and spurts of mini upheavals brought by loneliness and isolation. "This exhibit shows my moods. The fine strokes on my works are made at the time when my mind is relaxed. The heavy strokes are done when I'm in an intense mood. But I am trying to control my strokes as they are also a way to control my manic depressive character," said Castillo.
Segunda Mano was the second solo exhibit of Anthony Castillo. He is presently preparing for his sculpture exhibit.