The Orchard Family Day @ Savannah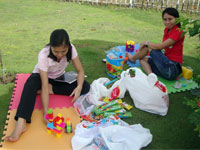 Camella staff preparing toys for kids.
Reviving the value of family and love, Savannah on its 10th anniversary, celebrated Family Day last Oct. 10, 2010.
It was a whole day affair where Camella officers, staff and marketing, including its prolific group of agents and brokers, gathered to welcome the families of their clients.
The activity started with the blessing of Savannah's new entrance gate at The Orchard. It was followed with a mass in the morning and then fun activities like the mini play house and swimming in the pool for kids. There was also a barbeque party where families participated to share luscious lunch with other guests.
Clients and guests enjoyed the free-site tripping and open house of Camella home series found at The Orchard, the newest bustling enclave in Savannah. The Orchard is another beautiful addition to the ever-expanding Savannah where a serene and classy lifestyle awaits homebuyers.
Camella Iloilo offered instant discount and freebies during the event for clients who reserved a property in this south American-inspired community, which gears to become the next premier city in Iloilo by 2015.
Camella Iloilo continues to please their clients and homebuyers by offering simply the best deals for quality housing. For more information, feel free to call their business office at (033) 337-7699.