Down-To-Earth Gail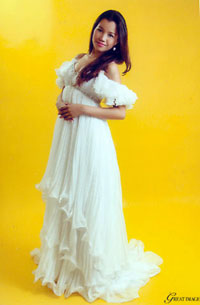 SIKAT Ka Iloilo's host Charmaine Gail Nuñez has this certain kind of appeal that has made her one of the city's sough after hosts.
She looks comfortable and real in every movement and talk she makes, giving the public an impression that she is a down-to-earth individual.
Gail, 22, is no stranger to hosting. Way back her college days, she had hosted events in her municipality, Leganes as well as in school, West Visays State University.
"My big break was when I hosted an event at a big mall in Iloilo City that featured the Municipality of Leganes. From then on, hosting invitations kept coming. Earlier this year my family told me that there is an audition for ABS-CBNs' Sikat Ka Iloilo. I tried and was blessed to have the co-hosting stint," she said.
Check out The News Today's interview with one of Iloilo City's famous personalities, Gail.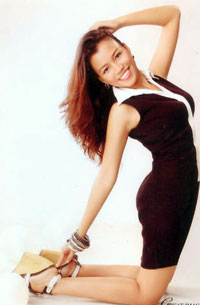 The News Today (TNT): What are some of the fun, challenging and embarrassing moments for you as a TV hos?
Charmaine Gail Nuñez (CGN): At first I never expected that being on the show will be this great! It's fun because the people I work with are very playful but are real professionals at the same time. They taught me the essence of professionalism. That I should come to the shoot prepared and on time, be courteous and really be passionate with what I do. As for the embarrassing moments, I think it's every time I need to do a lot of retakes because I kept stammering with deep Hiligaynon words I'm not familiar with. I have to ask our executive producer for its simpler translation so that we can have a good take. I'm learning, though.
TNT: How is life for you now that you're popular?
CGN: First of all, I don't want to put in mind that I'm popular because I don't want to lose my sanity. I'm just a simple person that others are familiar with because they see me on TV. I'm always overwhelmed whenever some would come up to me and ask me if I'm the girl they see on Sikat or on Wowowee. This encourages me to be at my best whenever I am in public places so as to live up to the expectations of the public.
TNT: You are also popular in beauty pageants. Why do you join these?
CGN: I am a big fan of beauty pageants since I was in grade school. Joining was my frustration then because I was oversized for my age. It was not until I came back to finish high school here in Iloilo when close friends encouraged me to give it a try. Despite my chubby frame and morena skin, I gave it a push and won. I will stand by my Ms. Silka 2010 answer. I will prove to the world that beauty pageant enthusiasts shouldn't just be "walking barbie dolls without brains." Whenever one decides to join a pageant, she should be physically, intellectually and emotionally prepared.
TNT: What's your beauty and fitness regimen?
CGN: After Ms. Silka and because I'm on TV on a daily basis, I've become really conscious of what I eat and what I put on my face. Currently, I'm on a light carbo diet. I don't indulge myself on too much rice, soda and junk foods. However, its bad to really deprive myself. So, Fridays are cheat days for me. It's when I have a slice of my favorite chocolate cake, cheetos and a lot more. I also stick to my skin and facial schedules and try to learn how to bike and do hullahoops. On top of everything, I drink a lot of water and take two to three capsules of Glutathione daily to detoxify my body. It makes the skin look fairer and moisturized.
TNT: How are you preparing for Ms. Silka's national competition?
CGN: I'm currently focusing on making my present skin tone look fairer. After all, its a whitening product I'm carrying so I undergo body scrubbing and bleaching sessions. Aside from that I keep myself updated of my possible national pageant co-candidates, read books to enrich my vocabulary and re-new friendship bonds to people who matters for peace of mind.
TNT: What are your thoughts about the upcoming competition?
CGN: I believe that it will be a big venue for me to showcase the qualities of an Ilongga and shine above the rest. I know that it will very tasking because winners from other parts of the country are equally deserving and former Ms. Silka Iloilo was last years' 1st runner up. But I will be bringing with me the confidence of my supporters and series of preparations so I think everything will come in handy. I'm a very positive person with a big dream who believes that Ms. Silka Philippines is a sweet opportunity to put Iloilo City in the Philippine map of beauty pageants once again.
TNT: What do you do if you're not busy hosting?
CGN: I spend most of my free time at home with my family. I'm a home buddy so I just enjoy watching movies, listening to my favorite music and visit networking sites at home. My favorite past time is sleeping. It is my get away from all of the stressful events and thoughts so by the time I get up, I feel more energized and positive. By the way, did you know that it can retard aging?
TNT: How do you see yourself five years from now?
CGN: Either I'd be graduating from Law school or pursuing my career in mass media. Better yet, I might be doing both.