CitiHardware opens 31st store
The newly opened branch is located at Brgy. Buntatala, Jaro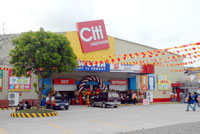 The newly opened branch is located at Brgy. Buntatala, Jaro.
FOR the people of Jaro, great value for their home and construction needs just arrived at their doorstep.
CitiHardware opened its 31st store in Brgy. Buntatala of Jaro to better serve the Iloilo province by bringing world-class building supplies closer to the people. No more sourcing and shipping costs to contend with when CitiHardware has so conveniently chosen Jaro district to be its second home in Iloilo City (the first being Mandurriao since 2004). It has a presence in Kalibo, Roxas, and Bacolod.
With its vision of being the leading retailer of innovative, cost-effective, and high-quality construction and home-finishing materials in the Philippines, CitiHardware prides itself for its growing corporate network as evidenced by the new stores just established this year in Kidapawan, Marbel and Naga.
Truly, CitiHardware is fast breaking ground in the industry as the very near future of 2011 is already geared to see more stores in Carcar in Cebu, and in Antique. Moreover, CitiHardware's extensive network is further strengthened by its capacity to source innovative products both locally and internationally, and its consequent wide array of product offerings which now include appliances and storage and organizing items.
This Davao-grown business is every aspiring entrepreneur's dream come true. CitiHardware started as one small store in Bajada, Davao City. Now, 12 short years after, CitiHardware is poised to serve millions of Filipinos with its continually increasing roster of branches in the country. The company believes that they must give great value everyday for customer satisfaction. There is no need for seasonal discounts and price offs because each time the customer makes a purchase, it is guaranteed that he or she is given the best price matched with quality service. Apparently, he is proven right time and again as discerning customers flock to the nearest CitiHardware fully expecting that their home and construction needs will be readily and effectively addressed
Last Sept. 24, 2010, CitiHardware has made its big splash in Jaro, Iloilo City. The Citihardware Management Team, armed with food, fun, and music, welcomed guests, friends, loyal customers, business partners, and professionals who have been instrumental in the completion of the 31st CitiHardware store.
For more information on CitiHardware, visit www.citihardware.com or go to the CitiHardware branch nearest you.*