Make Your Own Havaianas Roving Wall
now in Iloilo City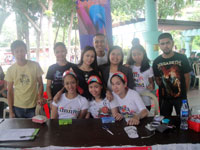 TMX Team and the Central Philippine University BS Advertising students at the registration booth located at the Promenade Hall of CPU.
There's always this feeling of excitement and fulfillment when you create something that is a beautiful piece of art. More so, when we're talking about the best flip-flops worldwide, which is Havaianas.
Every Havaianas owner and lover has a story to tell about their prized possession.
This is the case in Iloilo City when the Make Your Own Havaianas (MYOH) Roving Wall arrive in our metropolis.
At one time, the students of St. Paul University and Central Philippine University had fun sharing their MYOH stories. They were given paper slippers upon registration and they wrote their stories here and then posted them at the roving wall.
This is just one of the many awesome events we should expect from Havaianas this year.s