Welcome to the Christian World, Julie!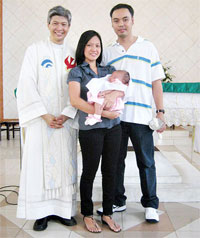 Rev. Fr. Robby Sian and Mennen & Rodolfo Sang-alan.
Mennen and Rodolfo Sang-alan recently welcomed their second child, a daughter named Julie Hannah. Julie became part of the Christian world through a baptism officiated by Rev. Fr. Robby Sian at Sta. Maria Catholic Church.
What followed was a sumptuous lunch for the godparents, family and friends at Cafe del Prado of Hotel del Rio. The guests had a wonderful time savoring the following: Soup with Garlic Bread, Paella, Ox Tongue, Crispy Pata, Calamares, Sizzling Tenderloin Tips, Boneless Bangus Sisig, Seafood Chopsuey, Carbonara and for the dessert, Black Forest and Choco Moist cakes.
The godparents were PSr./ Insp. Lorenez Losaria, PO3 Francisco Lindero, PO2 Sharon Balitor, PO1 Jerry Bayabay, PO2 Alain Silda, Atty. Ronilo Pamonag, Nanette Guadalquiver, Mark Nuñeza, Glen Jumayao, Daryl Gayondato, Ralph Dizon, Gerald Sumagaysay and Janet.