A Scrappin' Affair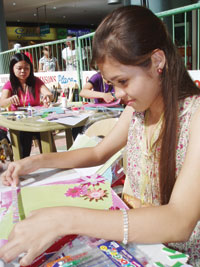 Scrapbooking is so fun that not only the youth engage in this activity. In fact, adults, especially women, take time for scrapbooking as well.
Robinsons Place Iloilo along with All About Scrapbooking, Hallmark, National Bookstore and Bic (manufactured by Filstar Distributors Corporation), held "A Scrappin' Affair' at the mall's fountain area. Moms and their kids, bestfriends and families were made busy working on their mementos using the materials provided by All About Scrapbooking. There was also a Make and Take mini-workshop that helped newbies get started.
Carmel Joan Carpio, marketing supervisor of Filstar, said that the event's aim was to bring out the creativity in each person. "Each page of the scrapbook will tell a story in a personalized way," she said. She added that nowadays, most teachers require projects that use scrapbooking materials. "So, we try to educate students how to do it. This is also ideal for moms. They can relieve themselves of stress through scrapbooking," she added.
Carpio also introduced the Scrappin' Club which now has 800 members. "We have a member as young as seven years old and as old as 70 years old. They scrapbook together during club days," Carpio said. A member will enjoy accumulated points from purchasing All About Scrapbooking products from National Bookstore, gift packs and can shop at the showroom in Manila at biggest discounts. "We will email them the latest about scrapbooking," Carpio said.
For more information about scrapbooking and the club, visit www.filstar.com.ph.