SPHI Plants Trees to Cure Mother Earth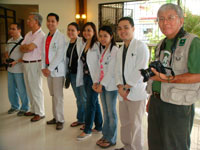 SPHI resident doctors with Dr. Henry Gonzalez, head of Family Medicine (second from left) and Dr. Vicente Pido, SPHI medical director (corner right)
In line with St. Paul's Hospital Centennial celebration, 300 tree-seedlings were planted by 100 participants representing the SPC Community, St. Paul's Hospital Administration, Medical Personnel and representatives of the different hospital departments and St. Paul University Iloilo on the grounds of the SPC Mere Monique Home-St. Paul University, Ticud, Lapaz, Iloilo City.
Organized by the SPHI Centennial Outreach Committee, headed by Sr. Edna Tagamolila, SPC, this Tree Planting Activity was held to bring greater consciousness and involvement in ecological development and preservation. St. Paul's Hospital Iloilo believes that our physical environment is greatly affecting the health of many Ilonggos. As a healthcare institution, SPHI does not only cure the illnesses of its patients but it finds ways to help in prevention of various illnesses caused by the rapid change of our climate. It is through this tree planting activity that SPHI helped take good care of our environment.
Most of the tree-seedlings planted are fruit-bearing trees. SPHI hopes that these trees may be blessed with fruits that would enrich the body with nutrients not only of the residents of the Mere Monique Home but many Ilonggos.
These trees will be one of the legacies of the first hundred year of existence of St. Paul's Hospital in Iloilo.