Garden of the Ascension Goes Earth-Friendly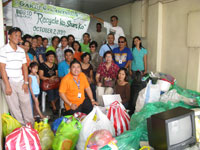 The Sales Associates of Garden of the Ascension with their contributions.
Garden of the Ascension celebrated its 10th anniversary last Oct. 10, 2010 through varied activities. Two of these were the "Recycle Ko, Share Ko" and "Decorate a Green Bag".
"Recycle ko, Share ko" was a contest requiring all agencies to bring all their recycles at home to the office like plastic containers, newspaper, and aluminum. These items were weighed and the agency who got the heaviest recycle contributions won. No less than the Direct Office agents won.
For "Decorate a Green Bag", there were seven entries and it was Collado Agency's bag that got the 1st place, Saplada Agency 2nd place, & Office Staff, 3rd.
The agencies that participated were Bilangdal, Bustillo, Collado, Direct Office, Salarda, Saplada and the office staff.
Garden of the Ascension's anniversary was entitled "BIG @ 10 on 10.10.10" with the theme: Be FIT. Be INVOLVED. Be part of the HISTORY!