Robinsons Campus Fashionista 2010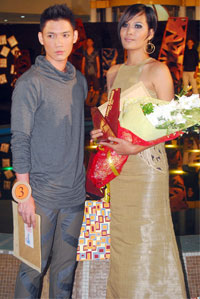 Grand winners Earvin Yap and Quenne Orada.
The Robinsons Campus Fashionista is a yearly search for young male and female models. For several years now, it has successfully achieved its objective with the winners figuring in Robinsons Place Iloilo's print ads and fashion shows. These individuals inspire other students to try out their luck in this prestigious model search.
This year, the champions are Earvin Yap and Quenne Orada and their runners-up are Faye Francisco and Kevin Jereos.
Set in a graduation ceremony in Broadway, the models showed their form and walk while wearing the swimwear made by Jerome Lorico, formal wear for men by Jeffrey Rogador, formal wear for women by Jaki Peñalosa and designs by the Young Designers and Robinsons Design Lab Alumni.
The judges were Robby Carmona, Abigail Arenas, Jerome Lorico and RLC's Tess Miranda.
Fashion designer Bo Parcon directed the show.