Edz Autencio's Piña Extravaganza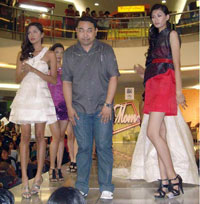 abc
Edz Autencio, a fashion designer from Aklan, concluded the 3rd Fiber Fashion Week with a fashion show featuring his superb collection made of piña cloth. His collection was comprised of beach casuals, midnight cocktails and bridal wear.
The following are Edz's inspirations for each segment.
BEACH CASUALS. A young fashionista who's a shopaholic gets tired of city malls so she goes to an island like Boracay. She strolls on the island's popular "D Mall", wearing a dress handloomed by the province folks out of a pineapple fibers, it is accentuated with shells, along with natural dyed abaca bags and thick flip-flops.
MIDNIGHT COCKTAILS. Sitting on the benches of the new "Resort's World" Mall (where the famed "Embassy" was relocated and renamed as "Republic"). There were ladies in lovely red, pink and lavender dresses strutting along its wide halls. The collection was based in dyed meshed abaca with piña fabric rossetes and shinning stones while structured patterns of black "suk-suk" (weaving patterns) in red-dyed piña silk make for perfect night life get-ups.
BRIDAL. It is a recent creation for the bride Dr. Theresa Sinel (a dentist) who is set to marry Dr. Emerson Tumanon III (a physician). It is a modern classic piña silk bridal gown with embroideries and callado as well as accessorized with aged tambourine headpiece and necklace and earrings.
The piña cloth used in Edz' fashion show were woven by the weavers of Kalibo, Aklan and refined by the Culdura Piña Cloth. The bags were creations of Ketchie Reyes-Marte of Reycons.