Iloilo Gov. Arthur Defensor Sr. has formed an evaluation team tasked to assess the performance and management skills of department heads at the Provincial Capitol.
Following the departure of Chief Supt. Samuel Pagdilao Jr., Chief Supt. Ernesto Tesoro has been named officer-in-charge of the Police Regional Office 6.
The Department of Trade and Industry 6 is reminding consumers to be wary of buying very cheap products, especially those sold along city streets and sidewalks.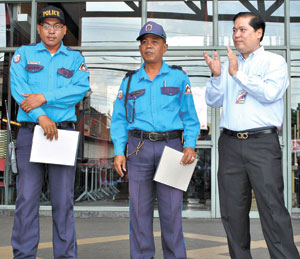 CITY PIO
Agriculture stakeholders in Western Visayas will meet today to discuss the region's rice self-sufficiency program.
Juvy Gaton, chief of agri-fishery information division of the Department of Agriculture 6, said the planning is aimed at coming up with a component that will encourage farmers to propagate hybrid rice.