The Ilonggo Action Network on Climate Change has opposed the scheduled re-test of the operation of the Panay Electric Development Corp. coal-fired power plant in La Paz, Iloilo City.
Twenty-two persons in Western Visayas have been arrested so far for violation of the Commission on Elections gun ban that started on September 25.
None among those arrested were members of the Armed Forces of the Philippines and Philippine National Police, or government officials.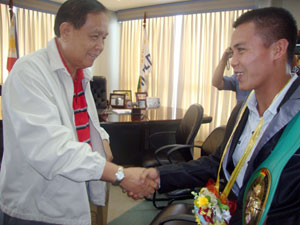 MONTESA GRIÑO-CAOYONAN
Iloilo City Mayor Jed Patrick Mabilog said he is satisfied with what City Hall has accomplished in his first 100 days in office.
An inspiration and pride to Ilonggos, said Gov. Arthur Defensor Sr. of boxing hero Denver Cuello, international strawweight champion of the World Boxing Council.