Auntie Anne's Turns One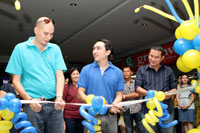 Ribbon cutting with Councilors David Jamora, Lex Tupas and Jason Gonzales.
Auntie Anne's, home of the best pretzels in town, celebrated its first anniversary in two venues recently. One was a blessing at Auntie Anne's at SM City Iloilo last September 9 and the second was a party at the Iloilo Business Hotel last September 10.
Auntie Anne's is a franchise of Roy Betita, a marketing whiz.
Councilor Lex Tupas, present during the blessing, lauded Roy for his decision to go home to Iloilo and open a branch here despite a promising career in the advertising industry in Manila.
Councilor David Jamora, another special guest, hoped that more Auntie Anne's branches will be opened in Iloilo City in order to generate more jobs for the Ilonggos. He even joked that he hopes that Roy might want to considering opening one at Marymart Mall, which is a Jamora family establishment.
Councilor Jason Gonzales said that it takes guts to open a business. A businessman himself, he attested that the hardest part is starting, thus he congratulated Roy for his guts.
After the blessing and speeches, the Betita family, friends and guests, enjoyed Auntie Anne's new pretzel flavors–Berry Strawberry, Dark Choco and Choco Mint.
The party at Iloilo Business Hotel was a blast. Guests came in their Hampton's best and enjoyed the night with friends as they sipped on cocktails and took part in happy conversations.