PURR
6th Tumandok Festival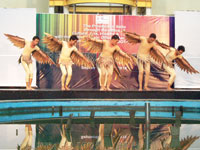 'Binanog Dance' by Lambunao Binanog Performing Group.
The 6th Tumandok Festival was held last September 22 to 24 at Robinsons Place Iloilo. The activity center of the said mall was surrounded by booths of the different municipalities of the Province of Iloilo. They were Igbaras, Anilao, San Enrique, Banate, Tigbauan, Passi City, Lambunao, Sta. Barbara, Oton, Leon, Duenas, Pototan, Guimbal, Cabatuan and Leganes. It was in their booths that the municipalities displayed the products, services and attractions that they offer.
Varied cultural performances marked the opening of the festival. Ritmo Tambores of Passi City showed their winning ways of playing the drums.. The Lambunao Binanog Performing Group showcased "Binanog", a dance of the Panay Bukidnon tribe that involves the movements of the "binanog" bird. It was a festive rendition of an indigenous dance because the performing group presented it with a contemporary touch.
Every day during that week-long celebration, festival dances from different municipalities were performed.
The 6th Tumandok Festival was a project of the Province of Iloilo's Culture, Arts, History and Tourism, the Iloilo Tourism Officers Association, Inc. (ITOA), the Department of Tourism 6 and Robinsons Place Iloilo.