CPU celebrates 105th Foundation Day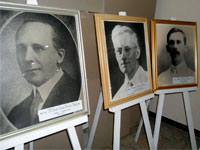 Portraits of the founding American missionaries including Rev. William O. Valentine (1st from left) are displayed at the CPU Henry Luce II Library.
Central Philippine University will hold a memorial service and joint wreath laying ceremonies on Friday, October 1 at 6:30 a.m. at the Philippine American Cemetery, Commission Civil St., Jaro – to honor the American Baptists Missionaries who founded the institution more than a hundred years ago.
In celebration of its 105th Foundation Day, CPU has various activities lined up for the whole day historical event. An opening program follows at the Alumni Promenade Concert Park including a fund-raising `Gymnics- games for a scholarship program. CPU Symphonic Band will perform at the Promenade at 5:00 in the afternoon to be followed by a `Sing Along for a Cause'. The annual celebration is spearheaded by the Cultural Affairs Office and enjoins all faculty, staff students and friends to look back and appreciate the University's history. This year's celebration theme is " Paghiliambitanay '10".
Central Philippine University was founded on October 1, 1905 as Jaro Industrial School, an elementary vocational school for boys, by the American Baptist Missionaries. It became Central Philippine College in 1923 and became a University in 1953. From an initial enrollment of 20 pupils, the student population has now grown to more than 12,000.
Located on a beautiful 24-hectare campus, it is conducive for studying and reflection and is pervaded by a Christian atmosphere known as 'Central Spirit'. In 2001, it was declared as Tourism Site by the Iloilo City Council.
CPU remains true to its mission as a non-stock, non profit Christian institution of higher learning, offering well-rounded program of education under influences which strengthens faith and build up character.