PINK PEPPER
Greening The Maasin Watershed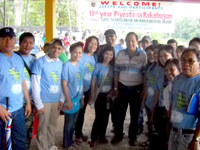 Governor Arthur Defensor Sr. and staff.
SOME 4,000 trees were planted at the Maasin watershed during Piyesta sa Kakahuyan last September 11.
The activity's theme was "Tubig sa Kagulangan: Maasin Watershed Balikan." It started with a caravan from Ungka, Pavia toward Barangay Daja, Maasin. It was followed by a short program led by Mayor Mariano Malones.
Governor Arthur Defensor Sr. said that "Piyesta sa Kakahuyan" is a symbolic act to revive public awareness on the importance of trees in our environment. The whole day activity proved that the Provincial Government is serous in its campaign on reforestation.
Meanwhile, Jeson Apatino told your Pink Pepper that he joined the activity because he wanted to help preserve nature and help it recover from the destruction wrought by mankind.
Those who joined the activity were Provincial Capitol employees, municipal officials, non-government organizations (NGOs), government agencies, academe, students, volunteers and other stakeholders.*