Serbisyo Agustino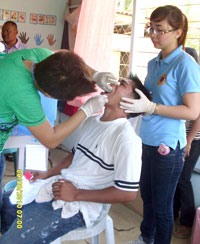 It does not count how far the place is when it comes to public service. Helping the poorest of the poor has been its business since its organization for ten years now. Last September 25 and 26, the Serbisyo Agustino once again lived up to its name. Spearheaded by the Masters in Public Administration and Masters in Business Administration graduate school students of the University of San Agustin, they visited the two far-flung barangays of Bingawan, Iloilo namely Brgy. Guinhulacan and Brgy. Maitbog Ilawod.
They provided the residents with medical-dental services, legal advice/consultation, rummage sale, flea market, and supply of water pumps. They also provided assistance in livelihood enhancing opportunities like the conduct
of skills training, giving of farm animals for the chosen barangays to rear and sell to augment their income; and barangay dialogue with the residents in order to draw-out from them issues that are of primordial concern to the barangay and which can be referred to the concerned government agencies for assistance and intervention.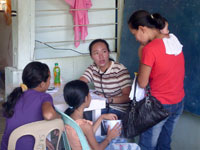 The activity was graced by the governor of Iloilo Arthur Defensor who appreciated the concerted effort of Serbisyo Agustino.
Prior to Bingawan, Serbisyo Agustino visited the province of Guimaras and municipalities of Iloilo province like Igbaras, Tubungan, San Enrique, Leon, Alimodian, Ajuy, Banate, Janiuay and Maasin.
Serbisyo Agustino is not the service of one but the service of all that makes it last, thus they also expressed their heartfelt gratitude to those who helped them realized the activity. They were Elmer David, Iloilo Society Commercial, Buto't Balat, Hyzent Aurelio, Kaye Migi Tayo, Sanicare Products, Lopez Engineering Services, Kodak Center, Iloilo Twinhearts Foundation, Inc., Skyline Fitness and Wellness Gym, Raul Banas, Raen Lending Corporation, PNB-De Leon Branch, Joana Jane Margareth Tendencia and many more.
Also worthy of mention are the medical doctors, namely: Drs. Edgar Castaños, Albert Cordero and Myhla Alfeche, and dentists Asuncion Gilo, Jr., Romeo Magallanes, Jr., Gerald Jones Berondo, Ryan Mabaquiao and Michael Escano.