Days after exposing the personalities behind the "jueteng" operations in the country, Ilongga Senator Miriam Defensor-Santiago revealed yesterday that she has been receiving death threats by telephone through her Quezon City office.
Six members of the Revolutionary Proletarian Army-Alex Boncayao Brigade, four civilians, and a security guard comprise the 11 persons who were arrested in Western Visayas for violation of the Commission on Elections gun ban that started September 25.
Chief Supt. Samuel Pagdilao Jr., police regional director, said that five firearms were confiscated from those arrested during the first day.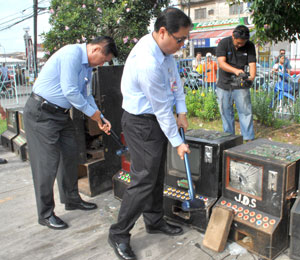 CITY PIO
The Iloilo City Government was lauded for its best practices during the Palladium Hall of Fame for Executing Strategy Asia Pacific Summit 2010 in Sofitel Philippine Plaza in Manila last week.
The extent of brown plant hopper infestation in Iloilo is not alarming as only 4.6 percent of the total area planted to rice in the province has been affected, according to the Department of Agriculture 6.