Erick's Neckpieces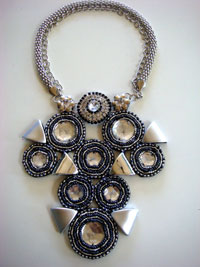 Designer Erick Sua-an has beautiful neckpieces for every woman to enjoy.
Erick said that the inspiration to make these pieces came when he was busy decorating his client's house for Christmas. That was November 2009. "She showed me a fashion magazine from France that featured the fashion forecast for 2010. I was inspired by the accessories they were wearing. They were very bold, layered and came in stunning colors. The materials were made of fabrics, stones, crystals, metals and beads. So, I decided to make one. My first attempt was a bib neck piece of color blue and turquoise. It took a week before I finally made it. Next was a coral red and ruby neck piece. I took a picture of it and posted it on Facebook. Upon opening my FB the next day, I was surprised because there were many inquiries about my work. Some inquiries were local and some were from abroad. Some of my prospects tagged their names on my neck pieces. In a matter of five weeks, I was able to sell five items at the first quarter of this year. It's really fun making money out of one's passion and skills," Erick said.
Erick is part owner of Theme Weddings, located at the corner San Agustin Street (formerly Jalandoni Street) and Delgado Street, Iloilo City.