60 Years of Service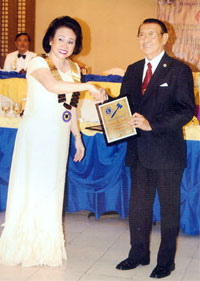 President Jeanette Oberio, MJF presents a President's Award to Immediate Past President Dr. Greg Sancho.
The Iloilo City (Host) Lions Club of District 301-B celebrated its 60th Charter Anniversary last August 27. On that special evening was the induction of Lions and Leo officers for the Lion Year 2010-2011. Held at Hotel del Rio, it was a festive affair when the Host Lions and their families as well as fellow Lions from other clubs, gathered for an evening of camaraderie, song, dance, good food and good wine.
The Iloilo City (Host) Lions Club, considered as the mother club of all Iloilo clubs, was recognized for being the Most Outstanding Club in Community Service as well as the Most Outstanding Club.
For a bit of history, the Lions Clubs International was founded in the United States in 1917 by Melvin Jones, a Chicago businessman. Jones asked, with regard to his colleagues, "What if these men who are successful because of their drive, intelligence and ambition, were to put their talents to work improving their communities?"
The Lions motto is "We Serve." Focal Lions Club programs include sight conservation, hearing and speech conservation, diabetes awareness, youth outreach, international relations, environmental issues, and other programs.