Not Just for Breakfast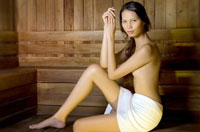 Spa Riviera offers Oatmeal and Yogurt Body Scrub
Oatmeal and yogurt are not just food that you take in for breakfast. It's also food for the skin.
Do you know that oatmeal is a natural cleanser, facial scrub and facial mask? It absorbs surface dirt on our skin while it provides gentle exfoliation.
Those with dry skin will find a bestfriend in oatmeal because it restores the skin's natural moisture balance.
If we use the wrong products and our skin gets irritated, scrubbing it with oatmeal could sooth it.
Meanwhile, yogurt has probiotic properties which rejuvenate the skin. Yogurt is a natural cleanser, too. Unlike the chemically-based cleansers, yogurt makes the skin smoother. It can also clear a pimple and acne.
Yogurt is also age-defying by penetrating the skin and adding elasticity to the skin cells.
So, to provide us with natural cleansing as well as pamper us like kings and queens, Spa Riviera is offering the Oatmeal and Yogurt Body Scrub. They mixed both ingredients and then scrub it all over your body. The therapist expertly rubs and cleans the body with this gentle combination, leaving one clean and fresh. The skin is softer too.
Next month, Spa Riviera will launch Nuts and Honey Body Scrub. Nuts prevents the damage caused by free radicals on the skin while honey removes wrinkles. It is rich in vitamins, minerals, and amino acids, which are wonderful beauty aids that nourish the skin. Honey is an effective antibacterial and antifungal agent.
Spa Riviera's other body scrubs are Java, Balinese Boreh and Oriental Body Scrub.
You might want to complete your time at the spa with a body massage and a facial after your body scrub. I tried their Hilot massage when I had a cold and it was so therapeutic. I also tried their Mandi Susu facial. The combination of milk and a secret exfoliant on my face left it clean and smooth.
The Oatmeal and Yogurt Body Scrub package is at P600, their promotional rate for both gift card holders and walk-in clients.
Spa Riviera offers discounts during its off peak days and hours. They are on Tuesdays and Wednesdays from 1 to 11PM, Monday, Thursday and Friday from 1 to 4PM and Saturday and Sunday from 10Am to 1 PM.
Spa Riviera is located at Jabez Building, Gen. Luna Street and can be reached through telephone number 5090209.*