WVSU Reigns in 8th ABS-CBN'S Newscasting Tilt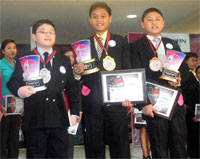 English Category Elementary winners. First runner-up Dave Danson Dy of Sun Yat Sen High School of Iloilo, Champion Val Jason Guerra of CPU Elementary School and 2nd runner-up Julio Mar Duarte of SPED-ISEC.
Iloilo named its best student newscasters after the hotly-contested Grand Finals of this year's ABS-CBN Inter-school Newscasting Competition.
Dubbed as the biggest, the grandest and the most prestigious competition in Panay and Guimaras islands, the ABS-CBN Inter-school Newscasting Competition is recognized as an institutionalized program of the Department of Education Region 6 believing that it enhance a student's communication skills.
The winners received plaque of recognition, trophy, medal, and cash prize.
All grand finalists are now the official school patrol reporter of their respective schools for school year 2010-2011 in both Sikat Ka! Iloilo and TV Patrol Iloilo – Una sa Balita!
"ABS-CBN once again proved it's commitment of bringing out the best of Ilonggo talent with the overwhelming success of the 2010 ABS-CBN Newscasting Competition" said Station Manager Charie Ginete-Ilon who pioneered conceptualized the Competition eight years ago.