JCI Regatta wins Big in 30th JCI VISARCON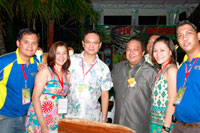 Incoming JCI Iloilo Pres. Eon Tiu, JCI Regatta member Wilda W. Usi, Pres. Elmer J. Usi, Bohol Gov. Edgar Chatto, JCI Regatta member Quennie Moises, and Incoming JCI Iloilo EVP Edwin Baldago share a light moment during the opening night of the 30th JCI Visayas Area Conference.
Junior Chamber International (JCI) Regatta, the newest chapter of JCI in Iloilo City, won big with 5 Major Awards, including the Most Outstanding New JCI Local Organization in the recently concluded 30th Visayas Area Conference Quadro Awards held at Alona Kew, Panglao in Bohol last September 4, 2010.
JCI Regatta President, Elmer J. Usi was adjudged as the Most Outstanding Local Organization President (Category 3). The other awardees included Wilda Wuthrich Usi as Best JCI Project Chairperson, Christy Marie Woo as Most Outstanding New JCI Member, while Balay ni Tatay won as the Best Civic Involvement Program.
"These awards are testaments not only to the quality of our projects but more so to the quality of our members, whom I am proud to be given the opportunity to lead," Mr. Usi said. "But much more than the awards, what is more rewarding is the fact that slowly, we are making a positive impact in the lives of the Ilonggos through the projects we have organized," he further added.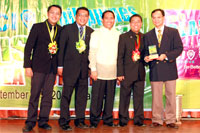 JCI Regatta President Elmer J. Usi holding his award as Most Outstanding Local Organization President (Category 3) with Regional Vice Presidents: Central Visayas Chris Camba, Eastern Visayas RJ Baclay, Western Visayas Randy Siason, and Visayas Area Vice President, Jonathan Calvara
Anchoring on the theme, S.A.I.L. on with a Blast! JCI Regatta indeed sailed on to farther seas as it conducted worthwhile and significant projects in Iloilo. Its banner projects include The Search for Outstanding Students of Iloilo (TOSIA) and the Inter-School Extemporaneous Speaking Contest, both with ABS-CBN Iloilo, Pinoy Icon – the Search for Modern-Day Ilonggo Heroes with SM City Iloilo and ABS-CBN, Balay ni Tatay: Shelter for Priests with the Archdiocese of Jaro, Sta. Maria Prayer Community, and the ICCRS, Advocacy for Persons with Disability with OPDA, environment protection projects like Project S.U.B.A. with EMB Region 6, Dream Big and Share the Dream Inspirational Concerts and Talks with Kerygma Preacher Alvin Barcelona and the Himaya Band. The Chapter also has projects and programs that develop the areas of individual, business, community and international opportunities.
JCI Regatta is part of the leading global organization of young active citizens between the age of 18 to 40 years old who seek to create positive change in the world. To join, please contact its President, Elmer J. Usi at 0928-5584867.