I-TRAVEL
Jed Madela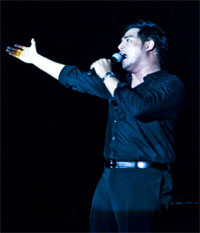 The man of the hour, Jed Madela.
The University of San Agustin held an alumni showcase last August wherein Jed Madela was the main feature. Madela is an Ilonggo who has gained recognition in the Philippines and abroad as a good entertainer. He is a good singer, according to reviews and news reports here and abroad.
In 2005, he won World Championships of Performing Arts. He also brought home two Champion of the World plaques, one star trophy for the award Grand Champion of the World in the singing division and the Grand Champion Performer of the World. Madela returned to the 2008 World Championships of Performing Arts (WCOPA) as a judge and also performed at the Universal CityWalk, Hollywood and Westin Bonaventure, Los Angeles on July 19 to 27.
After being absent from varied USA Alumni activities, your I-Travel person, bought tickets to the show. We were happy to have paid for choice seats – front row seats! That night, we had a real grand show! What we paid for was worth it because it was a first class show.