The Products of Bingawan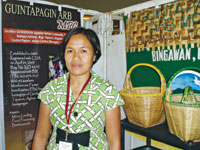 Guintapagin ARB manager Idalyn Camba.
Bingawan is a 5th class municipality in the province of Iloilo, Philippines. According to the 2000 census, it has a population of 11,866 people in 2,388 households.
It is politically subdivided into 14 barangays, namely: Agba-o, Alabidhan, Bulabog, Cairohan, Guinhulacan, Inamyungan, Malitbog Ilawod, Malitbog Ilaya, Ngingi-an, Poblacion, Quinangyana, Quinar-Upan, Tapacon and Tubod.
Bingawan, mostly an agricultural municipality, is a proud producer of quality bananas, papayas and bamboo. These products are sources of livelihood of the Guintapagin Agrarian Reform Community. Established in 2001, it has 93 farmer-members coming from Guinhulacan, Tapacon, Agba-o and Inamyungan. The word "Guintapagin" is a combination of these barangays' names.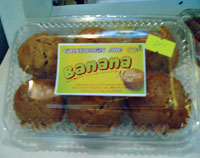 Guintapagin Banana Muffins.
The farmers produce processed food items, bamboo products and other services. The processed food items are papaya pickles, banana in syrup, banana chips, banana muffins, banana fries, pinasugbo, polvoron (plain, with cashew and rice crispies, with peanut and pinipid, with sesame seed and peanut, plain with sprinkles, with chocolate bits, coated with white chocolate and coated with dark chocolate). The bamboo products are fans, plates, baskets and multi-purpose trays.
Their services include micro lending, palay and vegetable production and post harvest servicing (flat bed drying).
These farmers are being assisted by the Municipal Government of Bingawan, Provincial Government of Iloilo, Department of Trade and Industry, Department of Agrarian Reform, Department of Agriculture and the Department of Science and Technology.
For two years, the Guintapagain ARB MPC has participated in the One Town One Product Fair in order to find a wider market for its products. In the meantime, these are being sold in local stores. Bingawan Mayor Matt Palabrica also gives these products as gifts to the municipality's guests.
The Guintapagin ARB MPC is located at Barangay Tapacon, Bingawan, Iloilo. It can be reached through its manager Idalyn Camba at 0928-2634-052 or through Mamerta Pelagio at 0920-3421-686 or 3962986.