Malaysia: What makes it truly Asia?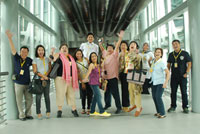 The group inside the Petronas Twin Towers.
FOR four glorious days in July, our media group from Visayas and Mindanao was treated to an awesome array of tastes, sights and other delights to understand what this nation of 20 million strives for.
Blasts from the past to glimpses of what is in store to make Malaysia a top tourist destination was graphically laid out for us in a familiarization tour of Kuala Lumpur, fondly referred to as KL to locals and regular tourists. Our host could not be more apt than the Malaysian Tourism Board and one of Asia's fastest growing airline, Cebu Pacific.
From the very first minute upon arrival in KL to the last farewell at the low cost carrier terminal building, our hosts were gracious and generous to a fault. Our host hotel, The Prince to our "a laugh a minute" tour guide, Eddie Chiok endlessly pampered us to start a debate of what we Pinoys have and hope to have. But that's a different topic. Having been spoiled on this trip, will make future trips to KL several shades less colorful.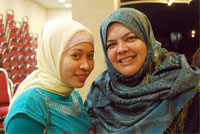 The News Today, represented by Marichel Magalona, took part in the travel as well.
Malaysia is indeed Asia. There is no country on this planet that could provide you a kaleidescope of three distinct cultures–Malay, Chinese and Indians–living together, celebrating life and observing too the meaning of Christmas and what its joy can bring.
Cuisine
Very distinctly it's Malaysian, Chinese and Indian. From the Malay kitchen on a daily basis, we sampled nasi lemak, beef rendang, satay, chicken curries, asam fish, ikan bilis and a variety of others. From the Chinese food fare, we had bakut teh, char kweh tiau, hokkien mee, carrot cake, and more Peranakan fusion favorites like laksa, kweh pai ti, otak-otak, sambal udang etc.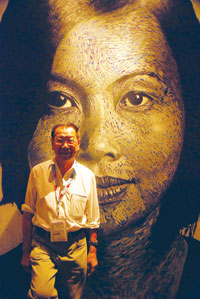 The writer at the Galeria Sri Perdana.
The Indian kitchen provided us with all the tandoori dishes, fish head curry, nasi kandar, chapatis with dozens of gravies to chose from and my favorite desert, chendol.
The high quality of Thai, Korean, Chinese and Japanese restaurants found in the entire country, provides all a pleasant food trip with no surprises. The standard of food is high and consistent.
History and Tourism
Malaysia gained independence from Britain in August 31, 1957 and had its share of struggles in molding a multi-racial society and developing the nation to an economic powerhouse.
We were fortunate to visit the official residence of the 4th Prime Minister of Malaysia, Tun Dr Mahatir Mohamad. At Galeria Sri Perdana we were given the foresight of this noble leader, his visions for the nation and his, prepare for this, immense belief in feng shiu.
Malaysia receives around 17 million tourists a year. Much to our envy, we saw Europeans–backpackers and suited up financial executives alike, hordes of Chinese groups, Middle -east family tourists and lots and lots of Pinoys. The Malaysian Tourism Board revealed some figures that are not flattering to us–last year over 400,000 Pinoys visited Malaysia with less than 50,000 Malaysians returning the favor! Ah, well.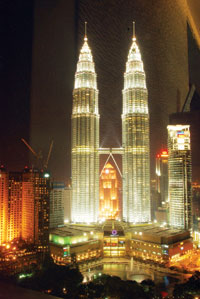 Petronas Twin Towers.
Tun Dr Mahathir's most visible legacy is the Petronas Twin Towers–the first stop of our tour and throughout our stay, this iconic structure, was clearly visible from every part of the city.
To decongest the city, Tun Dr Mahathir created the ferderal township, Putrajaya to house all the government offices and relocated the international airport (KLIA) to Sepang during his term. The support of proper infrastractures and other services made these dreams come true.
Riding the KLIA ekspres takes you only 28 minutes from KL to the airport at speeds up to 160 km/hr. KLIA transit, its sister train system takes to you Putrajaya.
We were also given insights to airport management par excellence with a full day tour at the KLIA. Not to be confused with the tedious airport and flight operations, ERAMAN is a subsidiary of Malaysia Airports Holdings Berhad. and operates the duty free shops, restaurants and every square inch of commercial space in the terminal buildings.
Since 1999, they have been multi-awarded and now manage seven international airports. While we were there, news broke that they were awarded to manage the airport in Maldives. Had the thought of managing an airport in the Philippines ever crossed their minds? Sure, and of recent times too.
Shopping
The highlight of our trip, would you believe, was shopping? From all the duty free shops at KLIA, Harrods, IKEA (if only we owned the plane's cargo hole), Lot 10, Sungai Wang, Sunway Pyramid Shopping Complex, The Pavilion to Central Market and Petaling Street, we were given incentives to shop.
We arrived in KL for the opening of the Malaysia Mega Sale Carnival 2010 and competed against journalists from 19 other countries on an amazing shopping race at the Sunway Pyramid Shopping Complex which houses thousands of shops in six level of glorious shopping.
For two agonizing hours we huffed and puffed finding the answers to 50 tricky questions on brands, prices, goods and emotions! In the end, with a couple of minutes to spare, the Philippines won first place, followed by Australia and Yemen.
Our sincere thanks to Malaysia Tourism Board and Cebu Pacific Air for inviting us. CEB flies to Kuala Lumpur and Kota Kinabalu from Manila. Check out its website www.cebupacificair.com for more details.