PURR
Joy of Loving Service
SPHI's treat to grannies at SM City Iloilo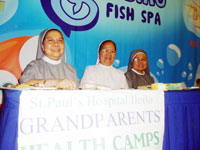 Sr. Ma. Linda Tanalgo, spc, SPHI administrator; Sr. Edna Tagamolila, spc; and Sr. Christine Suarez, spc.
For three years, Saint Paul's Hospital Iloilo has been holding the Health and Wellness Camp for Grannies every Grandparents Day. The project is a tie-up with SM City Iloilo, where the event is being held.
Sr. Ma. Linda Tanalgo, spc, SPHI administrator, led the hospital's resident doctors and staff in welcoming the seniors in the health camp at SM City Iloilo last September 12.
The senior citizens availed of the free medical services that SPHI and its sponsors offered. They were: ECG Test, Random Blood Sugar Test, Medical Consultation, Osteoporosis Test, Dietary Counseling and Wet Milk Sampling, Rehabilitation Medicine Orientation, and Vital Signs Taking. Drs. Joel Advincula and Generoso Licup gave a talk on the neuro diseases that affect the elderly.
The sponsors were Cebu RTK Marketing, Inc., Merk Sharp and Domme Philippines, Nestle Philippines and Abbot.
The event was a way for SPHI to express thanks to the elderly for the support they gave to the hospital.