PURR
All-Wielded & Adventurous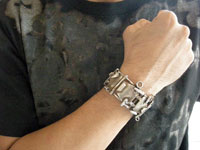 Allain Hablo, a friend who happens to be an artist showed me this beautifully made all-wielded stainless steel bracelet while we attended an art exhibit recently. It had an abstract motif and would definitely look great on a person who loves adventure. "My bracelets are not advisable for active lovers. Some have sharp edges that may hurt during foreplay. Wear at your own risk," he joked.
Allain is an award-winning Ilonggo artist who hails from Estancia, Iloilo. He had three one-man shows. One was held at Vermont, USA and the other two at the Avellana Gallery. They were entitled "Monotonous 1, 2 N 3".
Anyway, several of his bracelets can be bought from Allain himself. You can reach through this number 0939-5030-166. The bracelets are also available at the Avellana Art Gallery, 2680 Pasay City or CCP Shop, Little Theater Lobby, CCP Complex, Roxas Boulevard, Pasay City.