PURR
Robinsons Neo Chef Kicks-Off
Part Two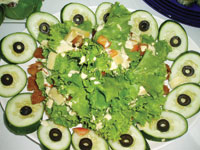 Team Freska's Caesar Salad.
In our first installment of Robinsons Place Iloilo's Neo Chef article, we presented the different teams that participated and pictures of the winning dishes.
In this issue, pictures of the dishes prepared by other teams are presented. Purr was one of the judges and it was quite a "food trip" because each salad dish had its own edge. But as they said, there will always be some that would stand out, and definitely these were the dishes prepared by Team Artichoke and Team Culinarian Devils.
The second elimination will be on Sept. 25, 2010 at 3 PM. More teams are encouraged to join this competition. Who knows? This could be your lucky break to be discovered as one of Iloilo's new chefs.
Applications for Robinsons Place Iloilo's Neo Chef are available at the Administration Office, located at the second floor carpark of the said mall.