IYO made us Ilonggos proud at the 11th IYD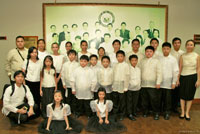 Last August, the Iloilo Youth Orchestra (IYO) made us Ilonggos proud when they were invited by the 11th International Youth Day 2010 (IYD) organizers, the United Nations Association of the Philippines (UNAP) through its youth arm, United Nations Youth Association of the Philippines (UNYAP) held at the Philippine International Convention Center (PICC) and Office of the Senate.
The IYO performed four times during the whole duration of the IYD 2010. They performed at the Opening Program of the IYD on the first day where dignitaries like Mayor Alfredo Lim, department of Justice (DOJ) Asec. Geronimo Sy, National Youth Commission (NYC) Chairman and CEO Christopher Lawrence Arnuco and Supreme Court Justice Adolfo Azcuna were present. IYO's next performance was during the ribbon cutting graced by UN resident coordinator Jacqueline Badcock on the second day at PICC. It took a while to start the ribbon cutting ceremony because the IYD delegates seemed to be fans of the IYO kids. In short, the delegates took turns in taking photos with the cute "little pro" violinists. Well, the kids are really cute aside from the fact that they can play very well. Another noticeable asset of the IYO performers is their bearing. The performers carry themselves with much finesse and confidence.
Still on the second day, the IYO was the first group to perform for the cultural night in PICC which was followed by other performers from different countries and creative groupings. Gina Barte, president of the Philippine Association of Museums Inc. (PAMI) and United Nations Development Programme's MDG Advocacy Officer Dulce Saret together with the other convention's session speakers were among the guests for the cultural night.
IYO's final performance was at IYD's closing program which was held at Sen. Ambrosio Padilla Room at the Office of the Senate where it was the first time on record that a closing program was allowed to be held there at the same time, it was also the first time on record that an orchestra performed in such venue.
Kudos to all the IYO performers for the 11th IYD namely: Nicky Rey Carumba, Aileen Chong, Bethanie Chong, Cedric Chong, Ayanna Benita Y. Galotera, Josua James Angelo Y. Galotera, Jose Sixto G. Gatchalian, Kenneth Lawrence G. Gatchalian, Lemuel G. Gatchalian, Elfie Cherry Anne T. Hernando, Therese Christine T. Hernando, Marc Adrian Justiniani, Maria Isabel L. Layson, Joshua Nell Daniel Lirazan, Karel Yvanna Denielle Lirazan, Karin Yrah Isis Lirazan, Diana Josephine Mateo, Briann Hans S. Ong, Ira Ann Grace S. Ong, Joachim A. Regalado, Julia Theresa A. Regalado, Ricardo Rule Jr., Eugene Sumague, Daryll Kevin U. Uygongco, Cassey Jules U. Uygongco and James Michael U. Young.
Lastly, congratulations to IYO President and violin teacher Melissa Exmundo for her outstanding commitment and devotion (not to name her unbelievable patience to the hyperactive kids) to the orchestra