GK Cacho Village Turnover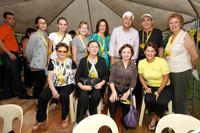 A POSE WITH GK FOUNDER TONY MELOTO. Seated are Rosa Cacho, Ma. Lourdes Cacho, Ma. Dulce Cacho Fernandez, Marirose Cacho. Standing are Erika Fernandez, Karen Cacho, Alexandra Cacho, Teresa Ortiz Fernadez, Tony Meloto, Rafa Cacho and Nena Ortoll.
To provide homes for people who were displaced by typhoon Frank in 2008, the Cacho Family mobilized the building of the Jose Ma. E (Rusty) Cacho GK Village (Past Pres.-Chairman of PECO from 1971 to 2006) Village or JMEC GK Village in San Isidro, Jaro, Iloilo City.
Generous support came from the Cacho family and relatives as well as friends. Thus, building of houses was started and just recently, the village was finally turned over to its beneficiaries.
No less than Gawad Kalinga founder Tony Meloto graced the affair, along with the GK Iloilo Team headed by Joey Mempin.
Mari Rose Cacho, daughter of the late Rusty Cacho and the GK Project Head, thanked the varied groups and individuals who supported the building of the said village. She also underscored the Filipino's responsibility of making a difference in nation building. "I am here in Gawad Kalinga because I love you guys," she said, looking at her children. "I believe in the vision of Tito Tony Meloto to end poverty by 2024; no shanties, no squatters. We in GK need all the help we can get for this vision to materialize. We don't own this earth. We are borrowing it from our children. We want to give back to our children and grandchildren a country they can be proud of. A first class Philippines. This is our legacy," she concluded.
The JMEC Village is the 23rd GK Iloilo Village.