PURR
Two Dance Showdowns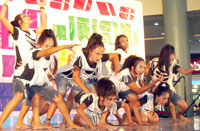 Virtual Connections was adjudged as Best Performer.
The all-girl dance group competition entitled "Girls Just Wanna Have Fun" will soon hold its third elimination round.
The second elimination was held last September 9 at the Robinsons Place Iloilo Fountain Area. The winners in this stint were Ilonggo Elite, Virtual Connections and HMD Females. The Virtual Connections was named as Best Performer after garnering the highest points based on the following criteria: choreography, difficulty of steps, mastery of steps and costume. The said group had a high energy level and the dancers' movements were swift and synchronized.
Will any of the three winners, who will be elevated to the grand finals, get the plum spot on October You'll find out as soon as the exact date is set.
For those who are interested to join the third eliminations, get your application forms from the mall administration office.
Meanwhile, the Terpsichorean Dancers were adjudged Best Performer in the "The Battle: A Dance Showdown", an all-male competition of the same mall. They were judged according to choreography, mastery of steps, difficulty of steps and over-all impact. Their presentation was a mix of hip-hop and samba. The audience and the judges were quite entertained with their concept.
"Girls Just Wanna Have Fun" and "The Battle: A Dance Showdown" are projects of Robinsons Place Iloilo and Jun Cortel Productions (JPC).