The Ly-Daniel Nuptials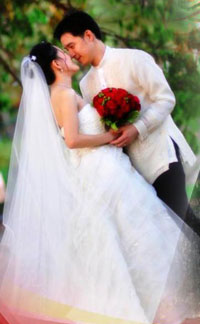 A tender moment between Melanie Daniel and Frankie Ly.
It was a dream come true for Frankie Ly and Melanie Daniel when they exchanged marital vows at the historical church of Sto. Nino de Arevalo Parish with family, relatives and friends witnessing their solemn oath. The lovely flowers that adorned the church were in full bloom that day despite the hot and humid afternoon thanks to the expertise of Neneng Rubino, one of the notable florists in town who also did a fine job at the Kalantiao Hall of Sarabia Manor Hotel and Convention Center, the reception venue.
The classic ecru bridal gown designed by Iloilo's Prince of Fashion Eric de los Santos and the groom's barong tagalog by Stitchline were simply breathtaking. The bride's face was truly radiant, thanks to Pepoy Tancinco who definitely knows how to make one look stunning especially on their most important day.
Everything was just perfect to last detail and why shouldn't it be, after all it was Aldrich Aparicio who coordinated the whole event. It's like made in heaven dearie! (Reprinted from Mezzo)