Off to the Fair and to the Island

An Assumption Iloilo Class 1979 diary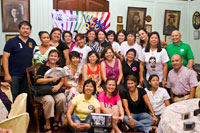 The Old Girls and Old Boys of Assumption Iloilo's Class 1979 gathered to celebrate their Alma Mater's centenary through varied fund-raising and fun events.
The week-long camaraderie started with a launching of the class cookbook last August 7. This was graced by GK Founder Tony Meloto. The proceeds of the cookbook will be used to establish the Assumption Iloilo Centennial Gawad Kalinga Village, starting with 30 houses.
On August 9, the batch hied off for lunch at SM City Iloilo, then to the parlor for their hair treatments. It's such a fun way to discuss the past while you have your hair done.
On August 10, the old girls and old boys got busy setting up the cookbook booth area. They took their lunch at Iloilo's famous Mexican-inspired restaurant, Mooon Cafe. Then, off to a grand nail treatment at Anea Nail Spa.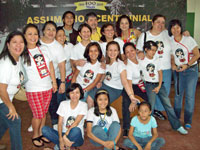 On August 11, the day of the fair, the old girls and old boys set up their shooting gallery and ring toss booth. Even though it was pouring the kids were lining up, so they continued operating the booth. They earned around P22,000 and this will go to the Assumption Iloilo Alumni Centennial Fund. The day was capped with a dinner at the house of Dr. Aileen Montero.
It's island life on August 12 when they all went to the Bella Cove in Guimaras. Experiencing nature at its best and with people you used to have fun with when you were younger and until now, is something worth remembering.
On August 13, the group had lunch with the teachers of Assumption, followed by the Velada at 3 PM. The nostalgic day was capped by a dinner at the house of Elena Derayunan.
On August 14, they attended the healing mass at the Assumption Chapel, and they continued to sell cookbooks at the booth. They took a break through a superb lunch at The Promenade. They attended the vespers at 4 PM and onwards to the house of Marirose Cacho for dinner.
During the last day, August 15, there was a handprinting session at the Assumption Sports Complex Wall, followed by a pictorial in different areas of their Alma Mater. Myra Arenas Joves treated everybody with lunch at Emilion. This was followed by a grand procession, a mass and an alumni dinner at the school grounds. As if it was enough, the Old Girls and Old Boys had after dinner drinks at the lobby of Westown Hotel.
The former classmates will definitely have something to reminisce about in future homecoming events.