Atty. Jun's Birthday Bash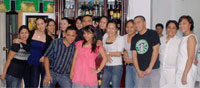 The celebrator (2nd to the right) and Dr. Blanche Garcia with Hartman Dialysis Center staff.
Atty. Jun Borres celebrated a remarkable birthday party at the riverside patio of the Hartman Dialysis Center. The food was divine as well as the open bar from Atty. Jun's personal collection of wines, tequila, vodka and brandy. It was coupled with the sumptuous Lechon de Leche and Paella from Al Dente.
Hartman Dialysis Center's staff serenaded the celebrator as well as presented a group dance that was jaw-dropping. It livened the already fun spirit of the occasion.
The close friends, family and staff present made the celebration a success!