Lessandra Turns 2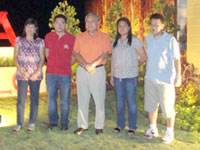 Camella Iloilo officers with GM Lily Donasco and Pavia Mayor Arcadio Gorriceta.
Lessandra, Iloilo's newest and popular townhouse community in Western Visayas developed by Camella, recently celebrated its 2nd Anniversary.
The whole-day event was the finale to a week-long celebration that started as early as 7 AM with a city-wide motorcade from Camella business office going to Lessandra site strategically located along Gorriceta Avenue in Pavia. A solemn mass followed. It gathered Camella Iloilo officers, marketing people, suppliers, contractors, realty groups and invited guests. It was later followed by fun games and raffles such as Bingo Bonanza, musical numbers and a lot more. Brokers and real estate agents invited visitors and potential homebuyers who enjoyed a free site-tripping. They immersed in the beautiful, attractive and relaxing ambiance of Lessandra as the next premier lifestyle community next to Savannah.
In the evening, the ultimate musical party started with the entertaining performances of Algae Band and Ilonggo music artists composed of Ilonggo 3nity, a local vocal pop group composed of RnB singer Reyn Callao, songstress Sheila Barrios and dance diva Cherry Callao. It also introduced Ilonggo rap group, All Out Kingz composed of Kudafie, Stan, Chaiz and female vocalist, Ms. JT. Lessandra's entrance gate was transformed into a perfect musical and food festival venue to cater the guests.
Where can you find a classy community offering affordable townhouses trusted by Filipinos for over 30 years? Lessandra's reservation fee is only Php 7,500. Hurry, grab the chance and be part of this rising Camella community by calling (033) 337-7699.