Some Filipino domestic helpers in Hong Kong, including those from Iloilo, fear of losing their jobs as a result of the killing of nine Hong Kong nationals in the 11-hour hostage crisis at the Quirino Grandstand in Manila on Monday.
The Sangguniang Panlalawigan of Iloilo has approved the executive budget of the province amounting to P1.584 million and the Annual Investment Program of P1.691 billion, both for 2010, during its session on Tuesday.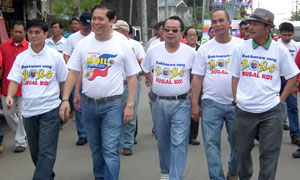 GLEN JUMAYAO
The commemoration of Iloilo's conversion from a municipality to a charter city after 73 years is full of revelation, serving as an eye-opener for the younger generation whose sense of history may already have diminished.