PURR
Arqihome
The place for everything you need at home, is finally open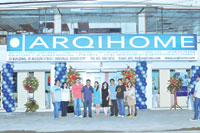 The Arqihome Family.
HAVE you ever wondered why some houses, regardless of size, are more beautiful than the others? It's a matter of choosing the right stuff to put inside it. With Arqihome opening in Iloilo City recently, Ilonggos are assured of a home that comes in good taste.
Arqihome was established by Jann Yao (an Ilonggo) and Dexter Chan, young entrepreneurs who want to introduce new benchmarks in the quality and innovation of architectural products. Their first branch is in Manila, put up in June 2009. The second branch is here in Iloilo City, located at Dulonan, Arevano. "We decided to put up our second branch in Iloilo because this city is 'on the go' in terms of construction," said Yao.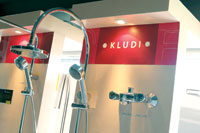 Arqihome is the exclusive distributor of Kludi.
"We import products from Germany, Austria, China and Spain. For bathrooms, we carry five brands – Kenco, Artiqua, Gala, Roman Dietsche and Kludi. We are the exclusive distributor of these brands in the country," Yao added.
"What makes Arqihome stand out is that we are very personalized. We tend to be partners with our clients by playing around with products to meet their needs. Arqihome as a company, would like to collaborate all clients' needs and at the same time design needs for the young and upcoming as well as known architects," Yao said.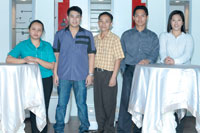 Team Arqihome with CEO Jann Yao (2nd from left).
Arqihome is a young, vibrant and dynamic team backed with an experienced staff who have worked in the industry for many years, enabling the company to expand their contacts and distributor base. This earned Arqihomes a reputation of being able to offer quality products and services.
Some of Arqihome's clients are are Pravio Boracay in Boracay, Sheridan Resort in Palawan, Acacia Grove Hotel in Manila and Smart Telecommunications Tower along Ayala Avenue," Yao said.
Arqihome provides architectural hardware, vanity lightings, bathroom showcase, furniture, interior design solutions, designer roofing, PPR pipes and home improvement and bathroom accessories.
It is located at JV Building, JV Jocson Street, Arevalo. It can be reached through telephone number 3363255 or e-mail to info_ilo@arqihome.com. Visit their website at www. arqihome.com