Army Engineers Celebrate Anniversary
Highlighted are the 552nd Engineer Construction Battalion and 553rd Engineer Brigade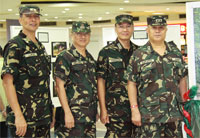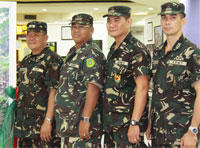 V.Gen. Supapo leads officials of the Army Engineers who officially opened the photo exhibit
JULY and August are the anniversary months of THE 552nd Engineer Construction and 53rd Engineer Brigade, Philippine Army, respectively.
To celebrate those momentous events, LtC. Nestor I Abando, CO 552ECB conceptualized a photo exhibit for their 43rd anniversary. I volunteered to be of service because to me it's an honor working with "men of goodwill and who willed to do good". LtC. Abando tasked me to work with Capt. Ervin Divinagracia, Lt. Raniel Malaque and their team.
The photo exhibit was held at Robinsons Iloilo Food Court. It was officially opened by V.Gen. Supapo, Gen. Arnaldo F. Fernandez, Jr. Former Commander of 53EBde, LtC. Nestor I. Abando CO 552ECB, Col. Veloria, Commander 53EBde, Gen. Sinajon, Col. Yordan, Gen. Layug and other top ranking officials.
The activities of the 552nd Engineer Construction Battalion, 53rd Battalion Brigade, Philippine Army in the Cities and provinces of Panay Island were highlighted. They were the unit activities, disaster and rescue operation during Frank, civic works at NTC, Hire for Peace, and Kalayaan Barangay Projects, which include: barangay electrification, farm to market road, health centers, day care centers, base activities and community military operations.
Engr. Nilo Jardeleza, a recent recipient of Rotary International Service Above Self Award, has written in the guest book, "Revealing!" Iloilo City Tourism Officer, Ben Gimena stated, "The Philippine Army was part in the development of Iloilo City through history. The photo exhibit was inspiring." PALI President Jack Tentia, a photojournalist said "it was informative". PALI Chairperson, Retired PNP Superintendent Erna Foerster noted, "heart warming". My sister, Abigail considers the soldier engineers the "unsung heroes". Some student viewers noted, "They don't have guns? Just carpentry tools?" Rogelio Garcia wished "that they will continue the road from San Rafael to Leon." A teacher hoped that 552ECB will also do infra projects for their school.
The soldiers on post, PFC Angue and Andog gave out 500 pieces of flyers. There were some who were interested to join the Philippine Army.
Thanks to Robinsons Place Iloilo, Jaro Photo Center, NTC, PALI for making this photo exhibit a success. Thank you as well to Arangkada sa GMA TV, Aksyon Radio, Interface OJTs @ NTC and most of all, the viewing public. (tess_szar@yahoo.com)