I-TRAVEL
The Photographic Society of Iloilo at 30 Years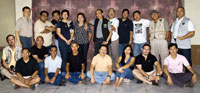 The Photographic Society of Iloilo will soon turn 30. The writer is at the back, second from the right.
THIS group of photo artists are bound together by one pursuit and that is to "beat each other out." Over what? For the sheer fun of looking at their work of interpreting what they see and feel! This is the bond that holds together this group of persons with extraordinary perception and talent.
The founder is Bert Onglamsing, a lawyer and entrepreneur extraordinaire, whose business establishment is Newpost, Gen. Luna. That's also where some of the works of the PSI artists are hung.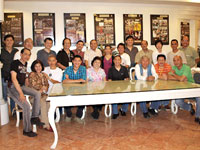 The PSI at Newpost General Luna, owned by PSI founder Bert Onglamsing
PSI's current president is Carlos Garcia, a man with extreme patience and sportsmanship.
In PSI, each member is unique and endowed with a great sense of sportsmanship and the drive to excel. In fact, these guys enjoy the monthly photographic competitions held by the club.
On September, PSI is celebrating its 30th anniversary. They will celebrate it with a grand party at the Sarabia Manor Hotel's poolside. Fun and frolic will usher in the group's 30th anniversary. There will be a grand photo show and competition as well.
One achievement that the group has earned recently was becoming a member of the Philippine Federation of Photographers. Their mettle will be tested with the hosting of 50-60 Asian photographers who are coming over on October and November.