Reggie's Birthday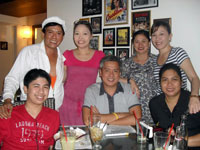 The celebrator Reggie Bautista (seated, middle) with Nikko Cid, Zedrick Seneres, Pangging Rosales, Renette Uy, Pane Rosales and Sweet Valencia.
Afrique's Restaurant in Smallville was the perfect setting for an intimate gathering of friends to celebrate Reggie Bautista's birthday with a dinner personally prepared by chef extraordinaire Miguel Cordova.
For starters, guests were served with fresh greens with balsamic vinaigrette followed by fish and chips. Main course consisted of Sausage con Carne, Sardinia Pizza, Penne Pasta, and Pata with Anchovy Sauce. For dessert, Chef Miguel presented his sinful Vanilla Crème Brulee, which was fashionably used as a cake for the birthday boy to blow and wish on! For the night's poison, a complex concoction of Cooler and Vodka called Decadence, a specialty of the house, was passed around to everyone.
Here's a toast to Reggie!