'73rd Charter Day celebration reveals significant memoir'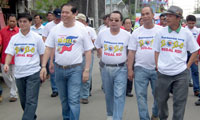 WALKING FORWARD. Iloilo City Mayor Jed Patrick Mabilog (2nd from left) with Councilors Plaridel Nava, Joshua Alim, Lyndon Acap, and Ely Estante lead the civic-military parade which culminated the city 's 73rd Charter day celebration yesterday.
The commemoration of Iloilo's conversion from a municipality to a charter city after 73 years is full of revelation, serving as an eye-opener for the younger generation whose sense of history may already have diminished.
Benito Jimena, city tourism and development officer, said the commemoration of the significant event, highlighted yesterday by a civic and military parade, has paved the way for city residents to learn who are the people who worked for the conversion.
Awareness was also raised as to how and what Iloilo City was before it became its own city.
Iloilo City 73 years after is already composed of six districts namely Molo, Mandurriao, City Proper, Lapaz, Arevalo and Jaro.
In his research, Jimena shared that the town of Iloilo before was composed of Molo, Mandurriao and City Proper districts only.
Its coverage was expanded to already include La Paz and Arevalo towns when former President Manuel L. Quezon signed Commonwealth Act 57 which declared Iloilo as a City.
Jaro district was once a separate town lumped together with Pavia and Leganes. It became part of Iloilo City only when Leganes and Pavia became independent towns.
During the conversion, Quezon named Dr. Ramon J. Campos as mayor, replacing Angel Tadeo who served as treasurer of Iloilo Province and concurrent interim mayor of the city.
Jimena shared that even before the cityhood conversion, Iloilo already had its own Residencia that was built during the time of Leopoldo Ganzon, the father of the late senator Rodolfo Ganzon and was completed during the time of Eulogio Garganera.
It was named Lozano Hall, after Cresenciano Lozano, author of the first bill that was presented before the Philippine Legislature granting a special charter to Iloilo.
The structure, which sits at the 16-hectare lot owned by the city government, was donated to the University of the Philippines and remains with the university to date.
Further, Jimena shared that when Iloilo City was inaugurated, its population was only 53,353, a far cry from its present population of almost half a million.
Transportation then was easier with the Iloilo Transportation Company steel blue buses in a double or single deck regularly plying every five minutes the routes of Jaro to Iloilo and Iloilo to Molo to Arevalo districts.
Meantime, Jimena has urged the public to research about the history of Iloilo City.
The Rosendo Mejica Museum at Brgy. Baluarte, Molo, he said, is open every Monday, Wednesday and Friday to researchers.
It is one of several institutions that serves as a repository of important facts about the city, he said.*PNA