Six persons were arrested in Iloilo City's haven of drug dens Tuesday evening in Brgy. Tanza-Esperanza, City Proper district, by joint operatives of the Philippine Drug Enforcement Agency 6 and the Regional Anti-Illegal Drugs Special Operations Task Group.
Four best environmental practices of Iloilo have been chosen finalists in the 2010 LivCom Awards to be presented at the Hilton Hotel in Chicago, Illinois on Nov. 4 to 8, 2010.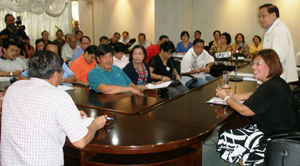 ECGARCIA
Iloilo Gov. Arthur Defensor Sr. urged the mayors in the province to prioritize the campaign against dengue fever in their respective localities to prevent the increase of dengue cases.
Defensor met with the mayors at the Capitol yesterday after he declared a state of calamity following a dengue outbreak in Iloilo.