Out of Town Affair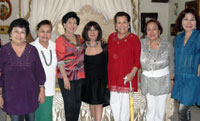 Baby Villalon, Dr. Tess Canja, Norma Rosales, hostess Au Palomar, Nena Chavez, Juanita Espinosa and Ruby Celo.
Out of town sorties are quite a tiring thing but when Tapaz, Capiz queen bee Au Palomar summons friends for a lunch party at her estate in celebration of her annual flower tribute to the Blessed Virgin Mary, a rain check is simply not acceptable.
Well-liked by many for her generous heart and bubbly personality, Au was as usual, the perfect hostess to her city and province guests who graced the affair. A holy mass and a short program started up the day. After that, a fine meal was served in her well-appointed home. Daughter Karen, who was just recently elected councilor of their town was also on hand to help entertain her mother's visitors.
Au's equally glamorous sister, international broker, Madame Jane Palomar who happens to be in the country on a stopover on her way back to Chicago after a hectic business trip to Southeast Asia, made heads turn when she showed up in an ultra chic black and red Valentino ensemble complete with matching pillbox hat!
Oh dear, what a town!