Assumption Iloilo's Centennial Free Medical & Dental Clinic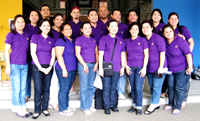 The GS '85 and HS '89 group in their official purple uniform for the medical mission.
Assumption Iloilo held its annual Free Medical & Dental Clinic last Saturday, August 7, 2010 at the Assumption campus in Gen. Luna St. This being Assumption Iloilo's Centennial year and to be able to reach out to more communities and beneficiaries, the school, along with the Parents-Facilitators Association (PFA) partnered with their Old Girls and Boys particularly Grade School '85 and High School Batch '89.
The Free Medical and Dental Clinic provided free medical consultation, dental services and medicines to its beneficiaries. This year, the event started with a Paraliturgy attended by Assumption Iloilo's partner schools and communities where Vice Mayor and Assumption PFA President Joe III Espinosa welcomed the hundreds of beneficiaries.
During the Paraliturgy, Sr. Nilda Hechanova, R.A., chairperson of the Assumption, gave an enlightening talk while Old Girl Dr. Kristin Trenas shared information about Dengue and AH1N1. PFA Couple Vice-President and Outreach coordinators Trix and Marissa Gorriceta presented gift packs to the recipients.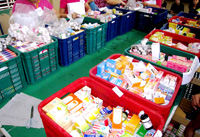 Overpouring of donations of medicines for the medical mission.
Tonette Jambongana of the Mother Marie Eugenie Community Center (MECC) spearheaded the event assisted by Batch '89 project coordinators Rema Protasio-Ong and Joanne Combong-Pijuan.
Last year, the free clinic served 663 patients. This year, with the help of nearly 200 doctors, dentists, nurses, and health practitioners as well as parents, teachers, alumnae/i and student volunteers along with donations from generous individuals and business owners, Assumption Iloilo was able to provide medical and dental services to around a thousand people. Beneficiaries for this year's Free Medical and Dental Clinic include Assumption's partner schools and communities namely: Barangay Rima in Sta. Teresita, Brgy. Yulo in Arevalo, Balantang Elementary School in Jaro, Sapao Elementary School in Dumagas, Guintas Elementary School in Leganes, RG Hechanova Memorial High School in Jaro, Bo. Obrero, and the Indigenous People of Sitio Serum and Sitio Ubog of Guimaras.